PROSPECTUS
Of the
COBURG AND SOMERTON JUNCTION ESTATE COMPANY LIMITED.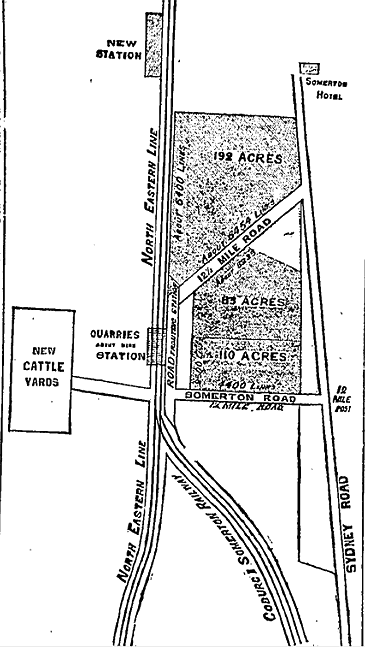 THERE has been no Estate offered to the Public with the advantages of ??? and at the same rate.

PROSPECTUS

THE COBURG AND SOMERTON JUNCTION ESTATE COMPANY LIMITED.

Registered Under "The Companies Statute, 1864(?)," Whereby the Liability of a Shareholder is Limited to the Amount Unpaid upon ???? Shares.

CAPITAL--£60,500(?) in 60,500 SHARES OF £1 EACH.

PAYABLE:

?s 6d on Application, 2s 6d on Allotment, ?s 6d in Three Months.
And the Balance as Required.
The Directors, however, feel assured that Shareholders will not be called upon to pay more than
7s 6d Per Share, as the Land will be
SUBDIVIDED and SOLD FORTHWITH.
SHARES to the Number of ??,000 Have Already Been APPLIED FOR PRIVATELY by Directors and Others
so that the Floating of the Company is Beyond the Shadow of a Doubt,
ALREADY ASSURED.

ALL SHARES WILL BE ALLOTTED STRICTLY IN PRIORITY OF APPLICATION.
DIRECTORS.
David Munro, David Munro and Co. Limited, Engineers.
Robert Dickens, J.P., Robert Dickens and Co., Merchants, Market street.
Evan Price, Price, Hogarth and Co., Elizabeth street.
Councillor John Zevenboom, J.P., Vice ??? for the Netherlands, Elizabeth street.
George Cool(?), Woodford house, Howe(?) street, North Fitzroy.
H. U. Alcock, J.P., Alcock and Co. Russell Street, city.
W. H. Purvis(?), Ironmonger, Elizabeth street.
BANKERS.
The City and County Property Bank Limited, Queen street.
SOLICITORS.
Messrs Tuthill, Geoghegan(?) and Perry, Queen street.
BROKERS.
Messrs R. D. McKay and A. B. Sutherland(?), Clarke Buildings, ?1 Bourke street west, to
whom all communications are the be addressed.
Alwin, Mackie and Co., Nicholson Chambers, and Coburg.
George Kyler(?), ?? Palmerston street, Carlton.
Messrs Lobdey(?), Binks and Co., Geelong.
SECRETARY.
Harold E. Lupton.
TEMPORARY OFFICES OF THE COMPANY.
Clarke Buildings, ?? Bourke street west, Melbourne.
NO PROMOTION MONEY WILL BE PAID.

The company will have the estate handed over free of all flotation(?) expenses, which is something different from the usual run of companies.


Memorandum and articles of association can be inspected at solicitors' or brokers' offices, together with the contract under which the company has acquired the estate.



"The possession of land is a people's greatness."

The COBURG AND SOMERTON JUNCTION ESTATE COMPANY LIMITED.



This company has been formed with the object of purchasing upon highly advantageous terms the property known as the Coburg and Somerton Estate. It is situated in immediate proximity to the North-Eastern Railway Line, close to Somerton station, the suburban terminus of the Melbourne and Coburg lines. It consists of 387(?) acres, and is in the parish of Yuroke, county of Bourke.


The property is of exceptional and daily increasing value. It is less than 13(?) miles from the city, and is bounded on the east by the Sydney road, the main North-Eastern Railway Line forming the western boundary, the south having a frontage to and being bounded by the Somerton road. The property has extensive frontages to two main roads, and is traversed also from and to and by an excellent metalled road, on either hand of which the property has admirably situated frontage, and which road forms the converging point of the traffic for the two railway lines.


The estate immediately adjoins the railway station, and consists of splendid land, suitable for business sites and residences, market centres, and with all the requirements necessary to form a picturesque and most healthy and conveniently situated township. It stands upon a slightly elevated plateau, commanding a magnificent view of the bay and the surrounding country. To the north lies Mount Macedon, and to the east is presented an uninterrupted stretch of land spreading out like a panorama, culminating in the Dandenong Ranges; while to the South the City of Melbourne and the suburbs fringing Hobson's Bay are distinctly visible.


The new line of railway from Coburg to Somerton is in course of construction, and according to the terms of contract should have been finished by 1st July, but will, we understand, open about 1st November next.


When this line is completed Somerton will possess a double railway service, the one on the North-Eastern line, and the other from Melbourne via Coburg. There will be 40(?) trains at least per day passing, ???? goods and passengers to and fro.


The locality is one that offers every inducement to settlement of the population. The site of the proposed new cattle market is about 3 miles distant from the property, and the large traffic connected therewith and fed by all the main Victorian lines will be brought into the township. It will be an immediate business centre. There are very valuable quarries, both of grey granite and bluestone, of most excellent quality, in the immediate vicinity. Specimens of this stone are on view at the offices of the company's brokers.


As the rate for carriage per ton(?) for delivering this stone in Melbourne is the same as charged per ton for carrying stone from the Footscray quarries, it is believed that the existence of these quarries will bring a large business to the neighbourhood.


Allotments can be sold to intending purchasers in Somerton at prices much more reasonable than in any other suburb of the metropolis. This is explained by the fact that the property owners have been more reluctant than others to dispose of their interests to ??? of subdivision, so that the first purchasers will participate in the advantage arising from areas first placed on the market, and whose value must be immediately enhanced by the extension of population and the possession of unusual facilities for communication with the city.


Somerton is a junction and train fare station, and within the metropolitan railway raius, so that trains will run on Sundays as well as ordinary days of the week.


The Government are about(?) expending a large sum upon the construction of the station and other buildings, while private persons are also directing their attention to the locality, and a large hotel and other buildings have been projected, and will, it is believed, soon be put in hand.


The estate has been purchased at £??? per acre, a very low figure for such a valuable property. No land within the same distance from the city in any direction ???? the same advantages, could be obtained at less than from £??? to £???? per acre.


Allotment of shares will be strictly according to priority of application, and the ??? will be closed without fail at an early date.


Applications for shares should be made on the accompanying form, and forwarded to the company's brokers, together with the amount payable on application.


If no allotment is made, the deposit will be returned without deduction, and when the number of shares allotted is less than the number applied for, the surplus will be credited in reduction of the amount payable on allotment.



A FEW PLAIN FACTS REGARDING COBURG AND SOMERTON.



1st. Somerton is favoured by elevated position and commanding views.

2nd. Somerton has perfect natural drainage and two railway lines.

3rd. Somerton will be centre for cattle yards, wool warehouses, hide and skin markets, and engineering workshops.

4th. Somerton has magnificent granite and bluestone quarries within easy distance.

5th. The line from Diggers' Rest to ??? Sandhurst(?) and Ballarat ??? is from Somerton.

6th. Contrast the price with lands further from the station, and you will find this is a much better value.
The furthest part of this estate from station is a few yards over half a mile.



R. D. McKAY and A. U. SUTHERLAND, Brokers.

Clarke Buildings, 61 Bourke street west.

(List of shareholders follows, unfortunately quality of type becomes very difficult to read and transcribe)