ARCHIVES
April 2009
January 2009
March 2008
February 2008
January 2008
December 2007
October 2007
August 2007
July 2007
May 2007

CONTACT
About this blog: random thoughts, discoveries, ramblings. Much of this was originally composed as email to a local history mailing list, rather than being written specifically for publishing, so it's a little disjointed. I figured it was better to get it out to everyone else in rough form rather than not at all.

If you have a common interest in anything, or can add further to the information I've provided here, please contact me.

I came across an aerial photo service that had slightly stale (around 2003ish) photos available: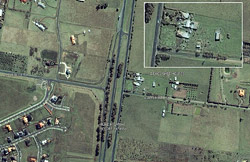 (Click for full sized image)

On the north-east corner of Hume Highway and Summerhill Roads were buildings demolished to make way for the bypass. This would have been where the Robert Burns Hotel originally stood. Looks like two distinct houses, one fronting the highway and one fronting Summerhill Road.

Even though the houses have been demolished and the land regraded there is still a portion of the land which appears to have been untouched (it still has a shed on it), so who knows, there may still be old coins lurking in the ground!

There was also a house slightly further south that was demolished. Can also see the farm complex that was demolished to create the newer area of Highlands off Craigieburn Road.






Related posts:
[Craigieburn / Mickleham / Greenvale] Aitken Hill
[Craigieburn] Several rural properties demolished for development
[Craigieburn] Craigieburn in the Victorian Municipal Directory
Old house overshadowed by new development
[Craigieburn] Stamp and postmark from 1904
[Somerton] Signal box demolished
Does anyone know where this sign is/was? Crossroads at Mickleham
[Craigieburn / Wollert] I visited Summerhill today!!!
[Craigieburn] Could one of these be the Craigieburn Inn site?
[Wallan] Inverlochy Castle Hotel