ARCHIVES
April 2009
January 2009
March 2008
February 2008
January 2008
December 2007
October 2007
August 2007
July 2007
May 2007

CONTACT
About this blog: random thoughts, discoveries, ramblings. Much of this was originally composed as email to a local history mailing list, rather than being written specifically for publishing, so it's a little disjointed. I figured it was better to get it out to everyone else in rough form rather than not at all.

If you have a common interest in anything, or can add further to the information I've provided here, please contact me.

I found some more images of Somerton station and the surrounding area on PROV. They have a very strange search system where if you do a main search you may not get back every result, or you only get partial listings. I asked them for assistance and was directed to another database:

http://proarchives.imagineering.com.au/index_search.asp?searchid=41

This one from 1899 clearly shows several buildings including the station, and possibly Somerton Road itself? If I've got my bearings right this would have been taken from the south-west corner of the crossing.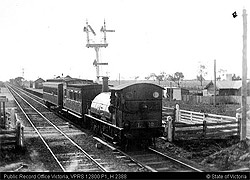 Click for full sized image: http://www.prov.vic.gov.au/images/12800/12800-00001-000095-010.asp

---

This one looks like it's taken high up (from a signal arm?), probably just south of Somerton Road with Campbellfield and Fawkner visible in the distance. Going on the loco I think it would be dated 1950 or later: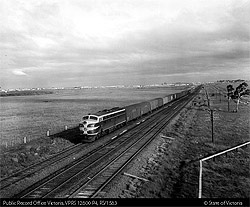 Click for full sized image: http://www.prov.vic.gov.au/images/12800/12800-P0004-000111-280.asp

There are 11 results in total, I won't link them all here.





Related posts:
[Somerton] Daniel Mackenzie - Somerton School
[Somerton] National Archives of Australia: Somerton related queries
[Somerton] Newspaper ad from 1888
[Somerton] Signal box demolished
[Somerton] Oldest surviving building in Somerton?