ARCHIVES
April 2009
January 2009
March 2008
February 2008
January 2008
December 2007
October 2007
August 2007
July 2007
May 2007

CONTACT
About this blog: random thoughts, discoveries, ramblings. Much of this was originally composed as email to a local history mailing list, rather than being written specifically for publishing, so it's a little disjointed. I figured it was better to get it out to everyone else in rough form rather than not at all.

If you have a common interest in anything, or can add further to the information I've provided here, please contact me.

I was saddened a little the other day when I realised that a path lined with mature trees leading to a new playground (at Highlands, on the southern side of Craigieburn Rad) used to be someone's driveway. I guess it's better than just cutting down the trees.

Here's an aerial photo showing the cluster of houses around Craigieburn Road, I have given each one a number: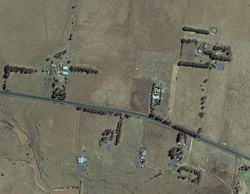 (Click for full sized image)

I count 7 separate properties, possibly 8 (looks like it has a separate driveway but it may be part of property #4). Property #4 is the one that has been replaced by a playground.

It appears property #7 was already demolished then, this may be a way to date the image. Could there have also been something immediately to the east of #3? Looks like a different parcel of land to #3.

If they're all separate then that would make it 9 properties that will be levelled soon...

UPDATE: Within a few days prior to 17th January 2008 property #5 was demolished. Only #6 and #2 remain.

UPDATE #2: House #6 was demolished in December 2008. Newspapers from 1906 were found underneath the wallpaper. A weatherboard property further west was also demolished around the same time.





Related posts:
[Craigieburn / Mickleham] I found the Robert Burns Hotel houses that were demolished
[Craigieburn] Craigieburn in the Victorian Municipal Directory
Old house overshadowed by new development
[Craigieburn] Stamp and postmark from 1904
[Craigieburn / Mickleham / Greenvale] Aitken Hill
[Somerton] Signal box demolished
[Craigieburn / Wollert] I visited Summerhill today!!!
[Craigieburn] Could one of these be the Craigieburn Inn site?
[Kalkallo] 1000 rural acres in Kalkallo to be industrialised